Written by Ulrich Oetzel, Islander Lead Developer, TorqueSim 3D Artist
This is a project I've wanted to do for a long, long time.
I'm sure some of you remember the old freeware FS9 Islanders by Marcel Kuhnt. Later came Flight1's offering for FSX. While I enjoyed both of these very much, I distinctly recall always waiting for a Turbine Islander to show up. I loved and still love that plane.
It certainly made an impression on me. You could hear its twin Allison 250's from what seemed like miles away, and the noise would build into a deafening scream when it came rolling across the apron. It was louder than a King Air, and most certainly louder than the 206's and 402's I knew! Little me would always cover his ears to shut out the noise.
At any rate, the years rolled on. The old 2T got sold a short while before the aging fleet was replaced entirely by Kodiaks, and I never heard anything about it again. Much in the same way, there was never any further talk of FSX (this is pre-P3D still) Islanders getting made, much less the turbine variant.
Which brings us neatly to my first entry: The trusty old 2B Islander. I grew tired of waiting. Tired of waiting for Flight1 to move their old model to X-Plane; tired of waiting for somebody to make it. Eventually, I came to the conclusion that "if you want something done, you should do it yourself" – or something along those lines. The end result of that was the TorqueSim Islander, which will soon be on version 1.2, with some serious upgrades over 1.1.
Now, I had always intended to make a 2T conversion of that aircraft. Even when I first joined TS, I knew that the Turbine Islander was somewhere in the future.
If only I had known. What started as a relatively simple conversion spiraled into extensive and intense reworks of the 3d model, the flight model, paint kit, interior, and myriad other items that needed improvement or alteration.
Now, with the project time dragging out (by no means a bad thing: more time means better quality), the 2T is essentially a completely new aircraft. It shares some minor features with our original model, in some places uses bits and pieces of the old textures, but it's a whole different plane. Even the flight characteristics are much improved over the previous iterations.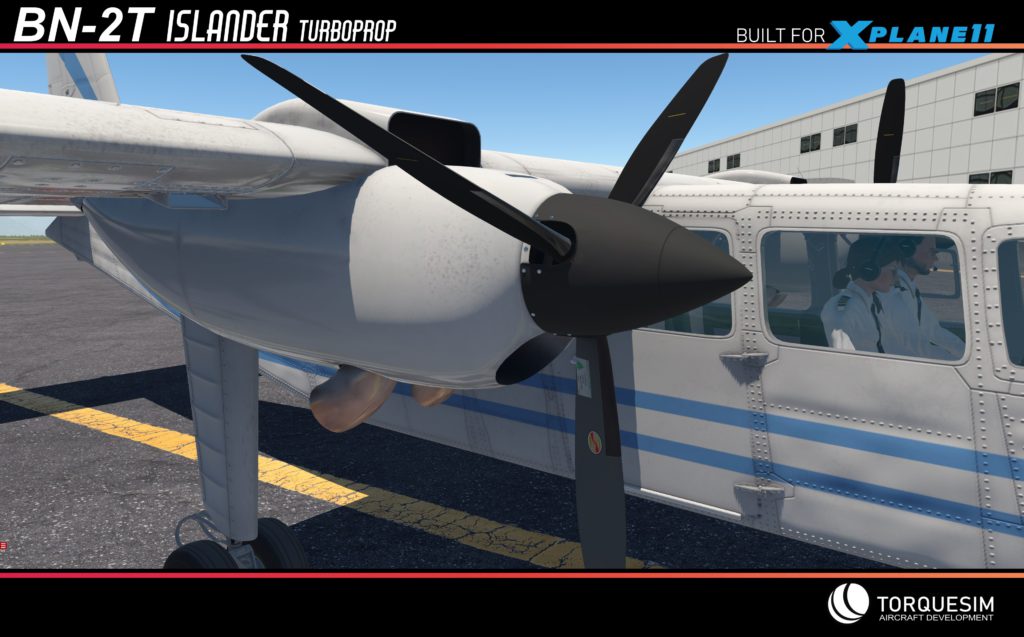 All this also has benefits for version 1.2 our piston BN-2 Islander.
The new interior of the 2T can be retrofitted almost 1:1 to the older model. New interior textures, better UV mapping and texel density, new 3d models in the interior, all that comes benefit of the work on the 2T.
The changes extend to the exterior of the plane. Old repaints will of course remain compatible, however new textures on the fuselage and wing offer improved visuals, with better rivet work and cleaner joins. The default paint schemes have already been updated to match the new standard, and the new paint kits will support the new version of the exterior textures.
All this is a rather long winded way of saying we have a BN-2T Turbine Islander coming very SOON™ alongside a huge update 1.2 for the BN-2B.
We're very excited to bring you both of these aircraft, and hope you'll enjoy flying them as much as we enjoy making them!
As per usual, questions, suggestions, comments, and the like are welcome. Come find us on our Discord server, and don't forget to follow us on Twitter for regular updates and more screenshots!
In the meantime, we've prepared some pictures of the new Turbine Islander to tide you over while you wait. Enjoy!